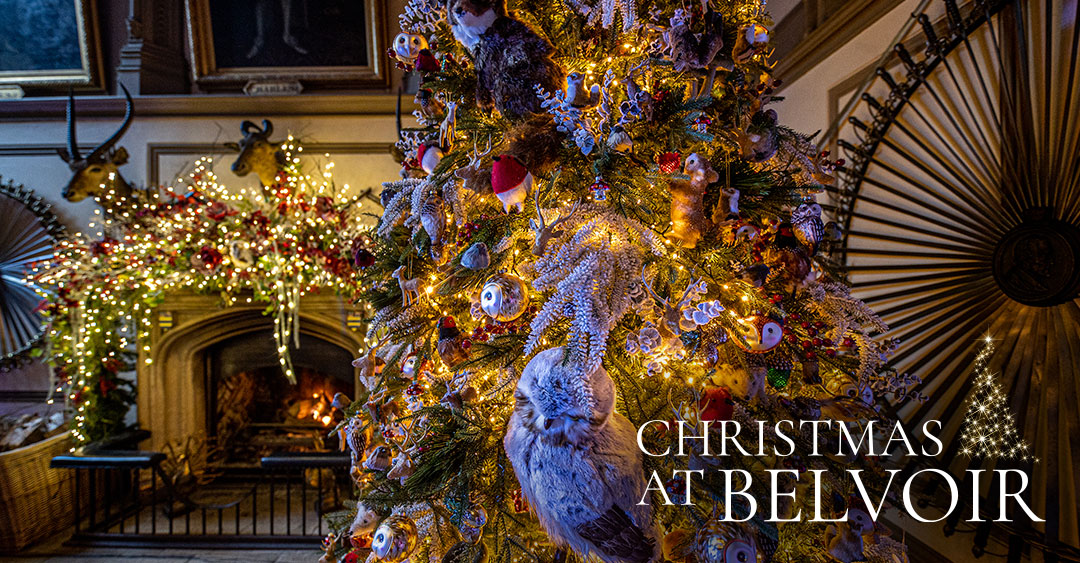 15th November 2021 - 2nd January 2022
There's so much to excite the senses at Belvoir Castle this Christmas. Come and marvel at our sumptuous Regency Christmas, set within one of the finest surviving examples of Regency architecture to be found anywhere in the world.
As you wander through the Castle, you will travel back in time through many colourful and dramatic, festive-styled state rooms, including the Guard Room, Ballroom, State Dining Room and King's Rooms, all created by our award-winning interior designer, Charlotte Lloyd-Webber. There's so much to see!
If you want to lengthen your stay, you can book a combined ticket to see both our Regency Christmas at the Castle and be enchanted by our Enlightened Belvoir Light Trail around the gardens where you'll witness talking trees, interactive stepping stones, a wishing tree area and interactive games and lighting displays. This 1.3km trail takes about 75 minutes to complete. If you are visiting at the weekend, you can also book a slot to see Father Christmas in his Regency grotto too.
Regency Christmas dates: 15th November 2021 to 2nd January 2022
Regency Father Christmas dates: November 20th, 21st, 27th and 28th, and December 4th, 5th, 11th, 12th and 18th – 23rd.
Times: See individual dates for exact opening times. To see Father Christmas in his grotto, you will need to complete your tour of the Castle first. We suggest allowing 90 mins between arrival at the Castle and visiting the grotto.
Pre-booking required: Yes
Ticket types available: Adult (16 and over), Child (4-15), Infant (under 4s), Family (2 Adults & 2 Children)
Ticket bands available: Off peak & peak
Car parking available: Yes. All parking will be in Belvoir Castle car park. For these events, please pre-book your parking, as it is very limited and it is highly likely that a space will not be available on the day unless you have pre-booked. Take a look at our FAQs for more details, including information about parking spaces for visitors with mobility issues.
Accessibility: Due to the historical nature of the venues, Regency Christmas is not suitable for wheelchair users or those with limited mobility.
Book a discounted combined day ticket for Regency Christmas and Enlightened Trail